Bryan Fund Raising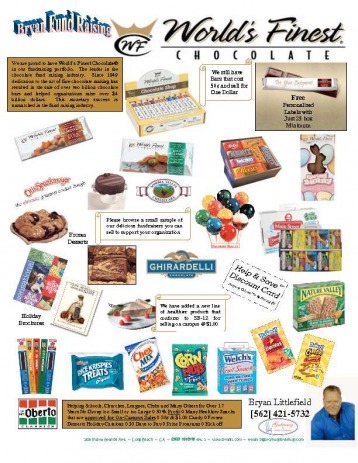 Please browse a small sample of our delicious fundraisers you can sell to support your organization
I have been helping Schools, Churches, Leagues, Clubs and Many Others for over 18 years, no group is too small or too large. I still have bars that cost 50¢ and sell for a dollar. Many other items that offer 50% profit. Many Healthier Snacks that conform to SB12 for On-Campus selling at $1.00. Frozen Desserts & Holiday Catalogs are also available.
30 Days to Pay
◊ Prize Programs ◊ Kick off Assemblies
We are proud to have World's Finest Chocolate® in our fundraising portfolio. The leader in the chocolate fund raising industry. Since 1949 dedication to the art of fine chocolate making has resulted in the sale of over two billion chocolate bars and helped organizations raise over $4 billion dollars. This monetary success is unmatched in the fund raising industry.
Please contact me so I can help your group meet it's Goal !
Bryan Littlefield
Long Beach, CA
Product List
Call: [562] 421-5732
e-mail:
bryanis@hotmail.com
---